As part of the P&P framework, we have consolidated our previous thirteen deaneries into six new larger deaneries. Each new deanery is better resourced with a full-time Area Dean, a half-time Support Officer and access to parish bookkeeping, church buildings and HR support services.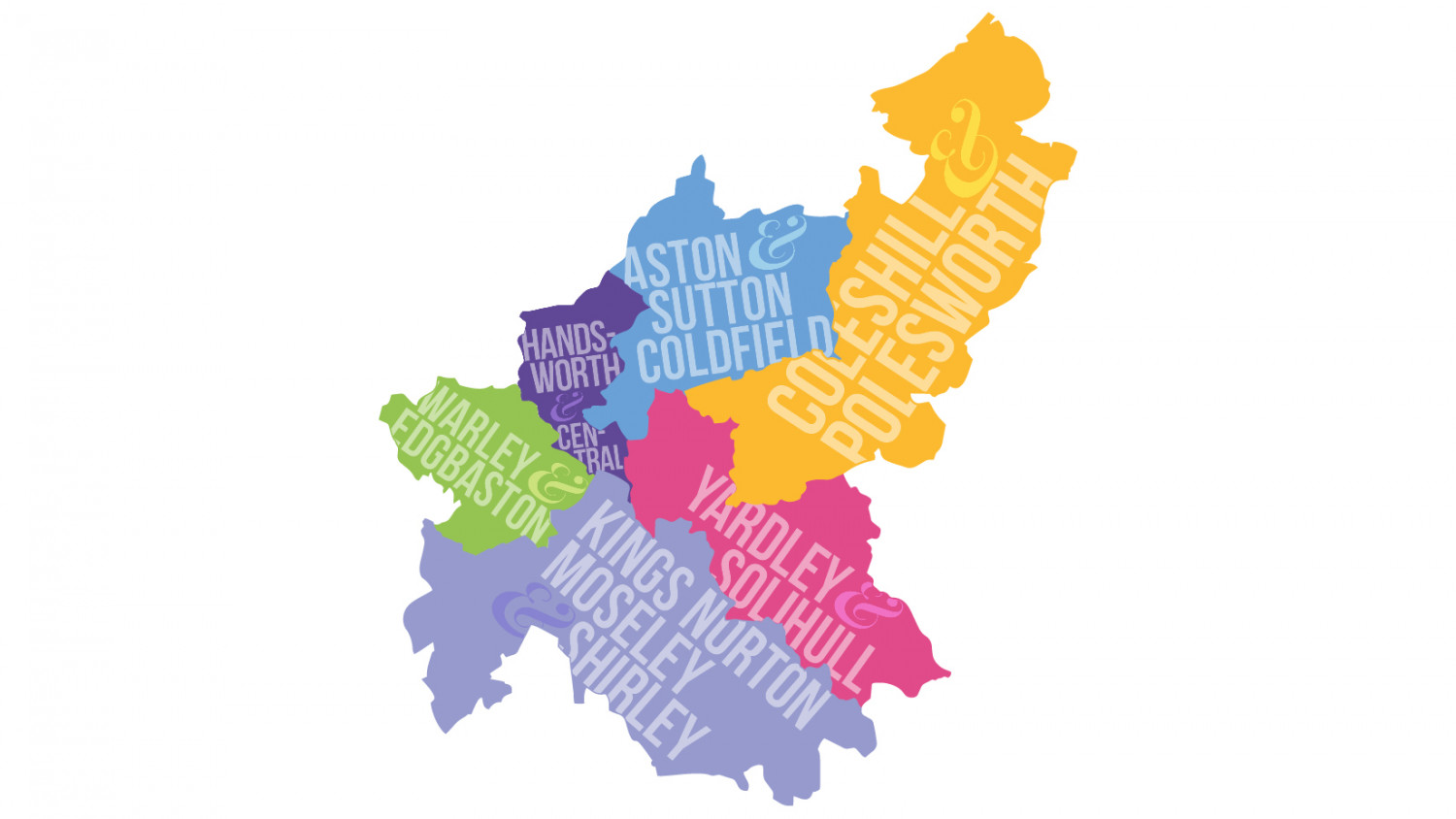 For more information and update on the six deaneries, please click on the links below.
---
Deanery Profiles
Aston and Sutton Coldfield Deanery
The new Deanery of Aston and Sutton Coldfield came into formal being through a Bishop's order on 1st May 2019. The aim was to make a larger unit which would have more resources to share and bring our diversity closer together in Christian unity, ministry and mission.

Aston & Sutton Coldfield Deanery covers a 'slice' of the city region from one of the most deprived and industrial/post-industrial areas to the direct north of the city centre at the end of the A38M, where it meets the M6 expressway, an elevated stretch of motorway running across north-Birmingham. Moving further out it embraces the former Warwickshire Royal Town of Sutton Coldfield and some bordering rural and urban communities. In the Southern end of the deanery, you will find the various parishes of Aston and Erdington. These are crossed by fixed road boundaries such as the A38 and M6 motorway, which influence relationships and evangelistic possibilities. The further South you go, the less green space there is, and you find poorer residential housing, estates and industrial/post-industrial areas. The Northern and Eastern parts of the Deanery include the Royal Town of Sutton Coldfield, which may be part of Birmingham administratively, but it is not entirely "of" Birmingham with a range of socio-economic contexts; everything from gated mansions to social housing. There are first class schools and the delights of Sutton Park. This area is mostly fairly comfortable suburbia, but with one rural multi church benefice and one parish which largely comprises a North Birmingham outer estate.
The deanery has 18 parishes and 24 Churches with a variety of ministry provision including full-time stipendiary, SSM, Readers and a variety of local lay ministers, all collaborating with a large number of voluntary officers and ministry leaders in the churches. There are four Church of England Primary Schools in the Deanery.
Area Dean biography - Ann Richardson
I have been Area Dean of Aston & Sutton Coldfield since December 2019 and live in the middle of the deanery, in Stockland Green. I am originally from South-East London, and prior to taking up this new role spent twenty years in the diocese of Rochester, ten years as a Reader and ten in ordained ministry. Most recently I was the vicar of Twydall and Area Dean of Gillingham. My areas of passion in ministry are in exploring lay discipleship and vocation, encouraging parishes and teams to work creatively together, and advocating for areas of deprivation, especially in the fields of housing and homelessness. Before ordination, I worked for over a decade in the City of London in the information and legal research department of a large law firm. Since arriving in Birmingham I have enjoyed exploring the many green spaces in the local area with my dog, re-establishing links with many friends who have moved to the Midlands over the years and getting to know the varied churches and people who make up the parishes of Aston & Sutton Coldfield deanery. As an avid football fan, I have also relished the proximity of Villa Park and am looking forward to a slightly less nail-biting season to come…
Coleshill and Polesworth Deanery
The new Deanery of Coleshill and Polesworth came into formal being through a Bishop's order on 1st November 2019.

The western edge of Coleshill and Polesworth Deanery is approx. 5 miles due East of Birmingham city centre, and then stretches further East through a combination of low-income outer estates and more affluent suburban neighbourhoods, moving out to the far North East where some of the most rural parts of the diocese are found. The vast majority of the land covered in this newly created Deanery is rural. However, the more urban parts of the Deanery are much more densely populated. This makes the geographic and socio-economic context of Coleshill and Polesworth Deanery extremely diverse. Indeed, the Deanery includes 4 Councils: Birmingham, Solihull, North Warwickshire and Staffordshire.

The Deanery is crossed by the M42 (North-South from North Warwickshire to Coleshill and Marston Green) and the M6 (West to East from Hodge Hill to Coleshill). There are large areas of green space, including the popular Kingsbury Waterpark. The villages range from affluent areas with gated properties to ex-mining communities where there are pockets of poverty. There is a large community of farmers across the areas in North Warwickshire and Staffordshire. Many of the rural parishes have been developed into multi-parish benefices, or multi-church parishes. Across the Deanery there are considerable medical, educational and recreational institutions. These includes 9 Church of England Primary Schools.

The deanery has 24 parishes / multi-parish benefices with 35 churches. There is a variety of ministry provision including full-time and part-time stipendiary, full-time and part-time SSM, Readers and a variety of local lay ministers, all collaborating with a large number of voluntary officers and ministry leaders in the churches. There is a celebrated diversity of worship style and tradition across the Deanery.
Area Dean biography - Louise Shaw
Louise Shaw was licensed as Area Dean of Coleshill and Polesworth Deanery on 16 June 2020. Louise came from Cheltenham to Birmingham as a student to study English and then never really left. It was in Birmingham that Louise discovered more about her faith and God's calling on her life. She worked in retail, as a playgroup leader and as an administrator before discerning, with the loving prayerful support of many people that God was calling her to ordination. Louise studied at Queens and then served her curacy at St John's Longbridge. Her first incumbency was in the northern more rural part of the Diocese, at St Paul's Dosthill where driving 25 minutes for a Deanery Chapter was not unusual (and that still is the case!). Throughout her time as Curate and Vicar she enjoyed tutoring on the Pastoral Care and Community Skills course, travelling alongside others as Vocations Advisor, Examining Chaplain and Training Incumbent. In 2017 Louise took on the role of Area Dean of Polesworth Deanery and was part of the process of merging the deaneries of Coleshill and Polesworth. Louise is married to Patrick and has two daughters. Everyone who visits Louise will know about the two small cockerpoos who are very attentive to visitors. There is nothing she likes better than walking on a beach with the dogs, listening to music, reading or watching a Marvel movie.
Handsworth and Central Deanery
The new deanery of Handsworth and Central came into formal being through a Bishop's Order, on the 1st August 2019.

Handsworth and Central Deanery covers the city Centre of Birmingham and the urban sprawl out to the northwest, through Lady wood, Handsworth as far as Great Barr and Kingstanding. This includes some areas of extreme deprivation, but also some more affluent areas, particularly in the newer city Centre developments. This a superdiverse deanery and there is a great ethnic and cultural mix with a whole range of backgrounds and faiths (including those of no faith.)

Across the deanery there are a considerable number of medical, educational, industrial and recreational institutions including City Hospital (and a brand-new super-hospital to be opened soon), the Alexander Stadium and the National Indoor Arena, both to be key venues in the Commonwealth Games 2022 as well as the International Convention Centre, Symphony Hall and the Bullring Shopping Centre. The deanery is home to Aston University and Birmingham City University, as well as a number of the UK's large banking, financial services and legal firms. There are significant residential, industrial and infrastructure developments taking place in many parts of the deanery, including the introduction of a Clean Air Zone, which will affect the City Centre and the HS2 rail network.

It is hoped that the new Area Dean will be able to work with the deanery and represent the local churches to civic partners in consultation where local contexts are affected by these developments. There are 7 church primary schools within the deanery which enjoy close relationships with their churches; The deanery has 21 parishes with 23 Churches, which includes the cathedral, with 2 BMOs also meeting in the deanery. Some churches within the deanery are intentionally intercultural with diverse BAME representation amongst their leadership (lay and ordained) and with the liturgical provision being representative of and embracing the cultures of those who have found a home in these churches. A number of the churches have significant and growing numbers of Sudanese, Nigerian and Zimbabwean Christians and there are also new Christians of Iranian and Persian heritage. A number of the churches within the deanery would describe themselves as inclusive and three are signed up to the aims and objectives of "Inclusive Church."
Area Dean biography - Fr Douglas Machiridza
I am Fr Douglas Tafara Machiridza born in Zimbabwe in 1971 and grew up there before relocating to the UK in 2002. I am married to Alice, who is a primary school teacher, and have three children - Tawana, Tatenda and Tafara. My calling to ordained ministry was discerned at Smethwick Old Church in the Warley Deanery after working for many years as a Senior Social Worker for Birmingham City Council. Trained for Ordination at Westcott House in Cambridge and Yale Divinity School, USA. Did my curacy at St John's and St Mathews churches respectively in Perry / Great Barr before becoming the vicar of St Andrew's church and Priest-in-Charge of St James, Handsworth. I have a passion for urban mission and ministry among the marginalized. In addition to my ministry as vicar and priest in charge, used to be the Convenor of the Inner City Clergy Network in the diocese of Birmingham and co-host- of the annual / bi-annual Urban Congress run in conjunction with the Outer Estates network. Currently sit on various committees within the diocese all aiming at providing strategic support and encouragement to the mission and mutual flourishing of ministry and mission within the diocese: Member of the Diocesan Mission & Ministry Planning Group, Member- Board of Trustees of Thrive Together Birmingham, Member of Bishop's Council, Member of the BAME diocesan reference group, Examining Chaplain, Member -Diocesan Synod, Member of the Diocesan Environment -National Consultation Committee on Net-Zero Emissions, Trustee of All Saints Multi-Academy Trust and The Clergy Discipline Measure Commission - Provincial Panelist for Canterbury Province.
Kings Norton, Moseley and Shirley Deanery
The new deanery of Kings Norton, Moseley and Shirley formally came being through a Bishop's Order, on the 1st March 2020, following considerable diocesan and local consultation.
The large deanery of Kings Norton, Moseley and Shirley has a population of over 370,000 (2011 Census) and is socially and economically mixed and as the map indicates, around half of the area consists of green space, with some very rural areas to the south and east. The deanery is largely residential, with a significant number of schools and Further Education colleges, and, in addition to the existing church primary schools, a new Church of England secondary school is being built in Yardley Wood and is due to open in September 2021.
There are large retail outlets and the famous Cadbury World within the deanery, which encompasses areas of considerable deprivation including multi-ethnic inner-city parishes and poor outer estates, as well as affluent suburbs and villages. For many years, the Longbridge car plant was a major local employer; following its closure, the redevelopment has centred on retail outlets and offices, with the promotion of light industry still awaited. The size of the deanery presents the opportunity for collaboration between similar contexts in different locations. There are 28 parishes and 47 churches in this deanery. The deanery varies from areas where there are low numbers of people from other faith backgrounds to areas with a rich and diverse religious mix.
Moseley and Shirley have growing Muslim populations with smaller, but long-established Sikh and Hindu residents. Moseley and Hall Green have strong, long established interfaith work. A high percentage of Muslims live at the Northern end of the deanery where the biggest concentration of mosques is to be found. There are a number of partnerships with other denominations and links through Churches Together groups. The churches represent the full range of Anglican tradition. They also vary in terms of size, and range from active to contemplative, with each valuing and blessing the other. The churches differ, too, in their approach to decision-making, from PCCs who would rarely, if ever, take a formal vote, to those with a sophisticated sub-committee structure. The varying demographic means that a flexible approach to the development of lay ministry will be vital, recognising the contributions and potential of individuals from a range of socioeconomic and educational backgrounds.
Area Dean - Revd Phelim O'Hare
Warley and Edgbaston Deanery
The new deanery of Warley and Edgbaston came into formal being through a Bishop's Order, following considerable diocesan and local consultation on 1st March 2020.
The deanery of Warley and Edgbaston runs from the partly-suburban area very close to the centre of the diverse city of Birmingham to the heart of the Black country, with its particular culture and industrial heritage. The considerable socio-economic range of the deanery is reflected in the housing stock, which includes Victorian terraces, outer estates and retirement villages. The deanery encompasses significant institutions: the Queen Elizabeth Hospital is a major centre for health and medical and nursing education, and a major local employer. Another 'super hospital' is due to be built at Cape Hill.
This deanery is very religiously diverse, although with large parts on the west of the deanery that are predominantly secular or post-Christian. with significant Muslim and Sikh communities present in many parishes as well as small Jewish and Hindu communities. There has been a very large and significant Sikh presence in Smethwick for many years with one of the country's largest Gurdwaras situated next to Holy Trinity Church. The demographics of the area are rapidly changing with an increasing Muslim population and a growing number of Mosques and other Muslim organisations. There is a strong interfaith work in the area with projects such as Faithful Friends and Women First being active and influential beyond the diocesan boundary. The local churches play a significant role in this work and in maintaining good links with different faith and cultural groups.
The deanery is close to national transport routes, with the M5/M6 interchange at the western end, and two commuter railway stations at Langley Green and Rowley Regis link with Birmingham and Stourbridge. The deanery contains 24 parishes / united benefices, comprising 24 churches. The churches in the deanery represent the full range of Anglican tradition and type, from charismatic evangelical to traditional Catholic, and from partly gathered congregations to local churches serving the estate for which they were built.
Area Dean biography - Mike Sermon
My name is Mike Sermon and I have been Area Dean of Warley and Edgbaston since 1st March 2021.
I was born in Birmingham where I have lived for much of my life. I am married to Silvia and have three grown-up children. It was in my twenties that faith became an increasingly significant part of my journey shaping and revealing what became a call and vocation into ministry. After a career in banking, I trained for ordination at Queen's College Edgbaston serving my curacy at St Anne's Church West Heath. My first incumbency was at St Paul's Church Blackheath, in the Black Country. This later expanded to include the role of Oversight Minister and Priest in Charge at St James Church Rounds Green. My earliest ministry was as a youth leader, subsequently it has included Reader training, Training Incumbent, Bishops Examining Chaplain, Spiritual Director, membership of Diocesan Synod and as a Trustee on different charitable boards. I have a passion to see vocations discovered and released in the people around us and for our Anglican Cure of Souls commitment to be fully lived out in the service of our wider parish community.
I enjoy hiking and have completed several pilgrimages including one to Santiago de Compostela. I enjoy music and science fiction. I play snooker regularly and I am a longstanding supporter of Aston Villa familiar with the joys and sorrows that this brings!
Yardley and Solihull Deanery
The new Deanery of Yardley and Solihull came into formal being through a Bishop's order on the 1st January 2020 following considerable diocesan and local consultation.
Yardley and Solihull Deanery is part of the Aston Archdeaconry, and offers a wedge-shaped microcosm of wider society in the West Midlands and across much of the UK. It 'hangs' off three arterial routes: the A34 Stratford Road, A41 Warwick Road and A45 Coventry Road. The parishes in the north and west of the deanery lie in Birmingham, and many are 'Presence and Engagement' parishes serving areas with people of diverse ethnic backgrounds and with a majority of people who would identify themselves as Muslim or of faiths other than Christian. The parishes in the south of the deanery lie in Solihull, a separate town with its own local authority, own sense of self and a large rural fringe. Residents here would more likely be of English background, and identify themselves as Christian or, increasingly, 'nothing'.
Solihull has traditionally been considered wealthy, though this is not wholly true of everywhere; one of the parishes, in particular, contains some fairly high levels of deprivation. However, of the northern Birmingham suburbs, Indices of Deprivation show all but one parish are in the bottom 7%, and eleven are in the bottom 2% of most deprived parishes in the country. A number of community support projects are housed in or work alongside local churches, with refugees and asylum seekers being among the people assisted. Several church-housed food-banks support local families, many of whom are working full-time, with Yardley Great Trust also providing grants and accommodation, especially for the elderly, across the large area of the ancient parish of Yardley.
The deanery contains eight church primary schools but no church secondaries. All of our schools enjoy close relationships with their churches, and one is a member of the Birmingham Diocesan Multi-Academy Trust (BDMAT). The deanery contains 23 parishes / united benefices, comprising 28 churches and 18 incumbents. Two of the churches also have associate vicars, and fairly large staff teams.
Area Dean biography - Nick Parker
I have served as Area Dean since March 2021 and was attracted to this new role by the wonderful diversity of this new deanery – encompassing rural and urban, multiple ethnic and language groups, different faiths, areas of great wealth and significant deprivation – each with its particular gifting as well as challenges. An appreciation of diversity and the worldwide Church is central to my Christian journey which includes formative experiences with Church Mission Society in Nigeria, South India, Nepal and Derby. Most recently I have served the parishes of Coleshill and Maxstoke which for 15 years has been a happy home for me and my wife Helen, as well as to our children Matthew and Emma, not forgetting Mabel our Spaniel. Now we are in a way coming full circle, having served my curacy at St. Edburgha, Yardley – where Helen and I met – before marrying in 2002 and travelling to work at St. Mary, Eugene, Oregon (USA), which further broadened our horizons.
Alongside parish ministry I have enjoyed serving as ecumenical officer for CofE Birmingham, training incumbent, examining chaplain and as chair of the board of education's Curriculum and RE Committee. I passionately believe that the Church must be mission focused, displaying all five marks in order to be relevant and engaged with the communities in which we serve.
My soul is fed by making music and the natural world – through which I find God speaking most powerfully. I look forward to sharing these passions whilst gaining as others share theirs – all in service of our faithful God who longs for all people to know life in all its fullness and for every community to flourish.
---
Meet the Area Deans
| | |
| --- | --- |
| Revd Ann Richardson - Area Dean of Aston and Sutton Coldfield | |
| Revd Louise Shaw - Area Dean of Coleshill and Polesworth | |
| Revd Douglas Machiridza - Area Dean of Handsworth and Central | |
| Revd Phelim O'Hare - Area Dean of Kings Norton, Moseley & Shirley | |
| Revd Mike Sermon - Area Dean of Warley and Edgbaston | |
| Revd Nick Parker - Area Dean for Yardley and Solihull | |